8 Amazon Product Research Tools for Private Label Sellers
According to research, many new Amazon FBA sellers encounter most of their headaches when it comes to one thing, product research. It is definitely the most time-consuming task, and it can sometimes be the most frustrating part of the process, especially for beginners.

There are tons of ways to find amazing products to sell on Amazon, we have curated our favorites into this list of the 8 best Amazon product research tools that every Amazon seller should know about.
​
​
Paid Tools
Jungle Scout
---
Jungle Scout When it comes to product research, the all-time favorite for many sellers is Jungle Scout. If you really want to know what the hottest products on Amazon are right now, you should definitely check out Jungle Scout's web app or chrome extension. Being one of the most popular tools on the market today, JS claims to take out all the guesswork from the product research phase, saving you countless hours scouring through pages, while eliminating tons of potential risk.
So what does it do?
JungleScout Web App
The web app combs through thousands of pages all at once to pull out products that fit specific parameters you can control. You can also use the keyword scout to find keywords, the niche hunter, a plan upgrade, will help you discover profitable niches, and the product tracker keeps your product searches organized, so you can better track the profitability of specific products within a given time frame, allowing you to pivot to products that maintain their profitability on a long term basis.
The Chrome Extension
The JS Chrome Extension allows for you to pull helpful data from a given product search results page. You can see such things as the number of sellers, estimated sales, number of reviews, and overall rating. You can also see how much revenue the product makes estimated from its current best seller ranking (BSR). There is an opportunity score rating and listing score, which helps you determine how competitive the niche is, all without having to leave the search results page! My favorite part about the Junglescout browser extension, is the associated keywords ticker at the bottom right of the panel. It is a pretty nifty tool that takes hours out of the keyword research phase.

They offer 3 different packages to sellers:
$39 per month - The Start-Up package includes the product database, tracking, competition monitoring and historical sales data. This account includes access for to 1 user.
$69 per month - The Standard package includes everything from the Start-Up but also includes the niche hunter. This account includes access for up to 3 users.
$99 per month - The Business package includes all the previously mentioned features and you can share your account with up to 6 users. See what some of the biggest names in business are saying about Jungle Scout: "The level of transparency is indeed unprecedented, but will hopefully be the start of a trend for other businesses to follow suit." - Forbes

"The most helpful Amazon software in the space." - Huffington Post "You need a tool that will give you an advantage. Jungle Scout is that tool." - Inc.

---
AMAsuite 5
---
Amasuite 5 - If you are looking to buy a product one time and use it for life, Amasuite is the perfect product for you. The suite comes with 5 separate tools, all which help you manage different parts of your Amazon business from your Windows or Mac OSX desktop computer. So what does it do? AMA Top Product Analyzer
Can't think of what to sell on Amazon? No problem! Simply use the AMA Top Product Analyzer to uncover the top performing products hidden deep within any of the Amazon sub-categories. AMA Search Analyzer
Need more information about a product before you sell it? The AMA Search Analyzer does it all! Simply enter in your main product keyword and let the software uncover the hidden secrets of all similar products listed on Amazon. AMA Keyword Generator
If you want to maximize traffic to your product, use the AMA Keyword Generator Software to get the exact keywords for your product to increase your product ranking and search position within Amazon search results. Use the right keywords in your marketing to dramatically increase your traffic and product sales. AMA Review Analyzer
This powerful software is used to extract product reviews and help you compare benefits and problems with existing products, giving you the edge when creating product innovations. Easily pinpoint the negative features for any products and fix those problems with your private label products! AliExpress Product Research Software
This incredible 3-in1 research software helps generate niche keywords, analyze best-sellers, and uncovers the top performing products for your companion website store in minutes! Amazon FBA Sellers Training Course
And it that wasn't all, you gain access to Amasuite's Amazon FBA and Affiliate marketing courses so you'll be ready to succeed right off the bat! The course alone is worth the price point, but you get it all for life!
AMAsuite 5 offers multiple payment solutions
$197 - Pay Up Front includes all of their software and service offerings
4 Payments of $67 - Pay for this suite over time!

---
ASINspector
---
ASINspector - ASINspector is a great tool for both new and experienced Amazon sellers, because it allows users to seek out listings in all sorts of places, including eBay, Alibaba, AliExpress, and Walmart! This tool provides a number of features that even Jungle Scout does not offer. With a simple click, you'll obtain a list of keywords for which a product is ranking and its ranking position for that keyword, which goes above and beyond what standard product research tools offer. This service ruly is a sleeping giant in the Amazon world So what does it do?
The Dashboard
This tool takes keyword research and competitor analysis up several notches. If you are transitioning from a retail arbitrage background, or want to have a single solution for your Amazon product research needs, including Private Label, give ASINpector a try. There are too many features to mention here. Visit their website here to learn more. The Mobile App
Unlike other tools, With ASINpector, you can simply scan ANY product with a barcode and it will instantly upload the data straight to your ASINpector Pro account. Now you can see if this is a product you should potentially sell while you are out living your life, instead of sitting in front of a computer for hours.

ASINspector offers 2 service options: $97 One Time - Standard License includes
Amazon Product Table Datapoints (12)
FBA net payout calculator
Search amazon product on stores (Walmart, Target etc)
Get product prices from 5-10 different stores
Open frequently bought together products
Load next or multiple amazon search pages
Keyword trend and related Keywords
$147 One Time + $10 per month - Pro License

includes
Everything from the Standard License +
Open all child / variations for a product
Get inventory on hand and prices from all sellers
Amazon product page analysis and profit calculator
Phone UPC barcode scanner
Brainstorm and discover random keywords
Amazon "done for you" feature for bulk UPC upload
Reverse search stores (Walmart, Home Depot, etc)

---
Helium10
---
Helium10 - If you want a guided software suite that uses the information from the first tool through to the next and the next, all the way until you are selling your products, Helium10 is the solution for you. There are so many helpful research tools beyond just product research, but in this area, it is a product research behemoth. They certainly spared no expense developing the most intuitive dashboard we have ever seen for Amazon Private Label sellers. So what else does it do?
The Dashboard From searching for keywords and spying on competitors to tracking your product keyword effectiveness and even reimbursements tracking, this dashboard has it all. Every tool works so well together, whether you are attempting to discover new search terms for your PPC campaigns, to optimizing your listing for specific keywords, you'll find the intuitiveness of this software to be unlike any other on the market. There are not many tools that compete directly with Jungle Scout, but this one certainly does and is way better in some ways too. You can even find misspellings for keywords! They are constantly adding new features and will soon have a profitability calculator as well. The Chrome Extension
Helium10 offers several unique features within their Chrome extension, including a reverse ASIN lookup tool and XRAY, a comprehensive product research tool that quickly scans and pulls product data, including easily identifiable sponsored listings, to your eyes from a standard Amazon product search page. It is the most competitive alternative to Jungle Scout in our opinion, and offers a very accurate representation of sales rank history and data, even a sales trending chart, which saves so much time. The best part is, it is FREE! With limited uses, you can do a significant amount of product research with this tool with the free tier!
Helium10 is unique in that it has A La Carte Options and Tiered pricing based on your needs.
$0 - The Free Package includes limited uses of the dashboard, and Chrome extension searches.
Keyword Tracker - Up to 20 keywords
Hijacker Alert - Up to 2 ASINS
Inventory Protector - Unlimited
Al La Carte - Choose the tools you want

to use and only pay for those!
Inventory Protector - Unlimited
$97 per month - The Platinum Plan

includes
Keyword Tracker - Up to 2500 keywords
Hijacker Alert - Up to 300 ASINS
$197 per month - The Diamond Plan

includes
Keyword Tracker - Up to 5000 keywords
Hijacker Alert - Up to 600 ASINS
We have awesome discount codes for Helium10. Send us an email for the best deals.

---
AMZ Scout
---
AMZ Scout - AMZ Scout is by far one of the most reliable and accurate Amazon product research tools out there. It offers a comprehensive set of tools which makes finding and tracking products a breeze. The Amz Scout website also features a free Sales Estimator and free FBA Fee Calculator. Beyond the standard marketplaces (US and UK), AMZScout supports some that others just don't yet. Definitely check this service out if you are trying to sell in Amazon Japan. So what else does it do? The Chrome Extension
Similar to other tools, AMZ Scout offers an extension for Chrome browsers which allows sellers to accurately monitor competitor and niche activity. Use this software to scan the market and find new product opportunities while sorting the results based on parameters you choose. If you find some outliers, simply deselect unrelated results for easy organization.You can also export the data with their handy export tool. The best part about this tool is how much data you can mine, and how quickly you can obtain up to 20 pages of search results information with a single click.

Also available as a free 7 day trial, Amz Scout offers 3 different plans:
$29.99 per month - The Basic package includes their product database, a competitor analysis tool, the keyword tracker, and helpful guides to products which are easy to sell. You can track up to 20 products on this plan.
$39.99 per month - The Start package includes all of the basic features, but you can track a total of 40 products on this plan.
$59.99 per month - The Business package includes all the previously mentioned features and up to 80 products tracked.

---
---
Free Tools
Unicorn Smasher by AMZ Tracker
---
Unicorn Smasher - If you are just getting into the Amazon FBA space and aren't sure if this is the right business for you, why not give AMZ Tracker's Unicorn Smasher a try? It is free, gives a ton of value, and saves lots of time on your product research. While not as extensive and intuitive as other Amazon tools, when it comes to free options, this one is certainly a contender.
So what does it do?
The Chrome Extension
The Unicorn Smasher Chrome Extension allows for you to pull lots of current product data from a given product search results page. Similar to paid tools, you can see the number of sellers, estimated sales, number of reviews, and overall rating. You can also see how much revenue the product makes estimated from its current best seller ranking (BSR). It is arguable that the data displayed within this app is not as accurate as others, given it uses the current BSR to determine sales velocity. It is still a good research tool to combine with your paid tools to get a different perspective on the niche or products you might be interested in. In addition to the extension, you can add products to your favorites list and track them over time with the web dashboard. This helps you organize your searches and find long-term winners. We really enjoy how Unicorn Smasher displays variation statistics for product child variations, letting you know what sorts of product innovations are most popular with a specific product line.

---
---
Gorillaz Tribe Essential Guides
Super Product Selector Version 5.1
---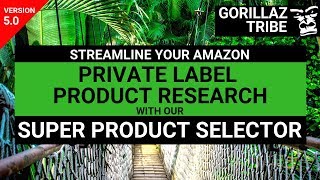 Includes:
Super Product Selector Initial Viability Test
Product Champion Scorecard
Super Product Analyzer
Product Summary Report
Profit Calculator
Read More about The Super Product Selector Here
---
Supplier Comparison Chart
---
Score your suppliers based on these critera:
PRODUCT QUALITY
PRICE - TARGETS
ON-TIME DELIVERY
MOQ & DEMAND
REPUTATION
CUSTOMER FOCUS
CUSTOMER SERVICE
RESPONSIVENESS
Ensure you choose the right supplier for your chosen product.
---
---
The Best Amazon Product Research Tools